THE NEED TO PROTECT CHILDREN
If you only ever read one page of our website,
make it this one.
Recent research from Young Lives vs Cancer, sponsored by Guardian,
not only reveals the prevalence of cancer in young people, but also
the financial burden a diagnosis places on the family.
A MUST READ*
Each year in the UK, around 4,000 children and
young people are diagnosed with cancer.
To make matters worse, cancer diagnosis comes at a
financial premium, with young cancer patients and their
families facing a range of extra monthly costs, including …
a month travelling
to treatment.
a month on accommodation.
a month on
toys and treats.
This adds up to an average cost of
These costs add up
to an average extra monthly cost of
almost £700 extra a month
And the burden of these additional monthly costs is
compounded by a loss of income caused by parents taking
time off work to take care of their ill child.
of families with young cancer patients experience a loss of income.
a year is the average income loss of these families.
of these families experience a loss in income of more than £10,000 a year.
* Source: Cancer Costs, Young Lives Vs Cancer research sponsored by Guardian, September 2023.
A must recommend
Children's cover can't be overlooked.
When selling protection, it's easy to focus on the parents. After all, they're the bread winners.
But as the research shows, the cost and time needed to take care of an ill child can have a devastating effect on the household's income and the parents' ability to earn.
What's more, children's critical illness ranks among the top reasons for critical illness claims. 
WHY GUARDIAN
Simply add to any type of adult cover.
Unlike some other providers, who only offer a limited amount of children's cover as part of an adult critical illness policy, we let you add Children's Critical Illness Protection to any type of adult cover.
We also offer higher cover amounts. Parents can select any amount between £10,000 and £100,000, limited to the amount of their own cover.
And, we've made it an affordable add-on.  
Parents can add £50,000 of Children's Critical Illness Protection to any of the following types of adult cover: 
CRITICAL ILLNESS PROTECTION
LIFE AND CRITICAL ILLNESS PROTECTION
When you quote on your chosen portal, Guardian will return a quote for £25,000 of Children's Critical Illness Protection. You can change this to any amount between £10,000 and £100,000 during our online application process.
An optional extra that can be added to any type of adult cover.
Children are covered by our market-leading definitions, including 6 child-specific definitions.
Can be added when your clients apply, or at anytime in the future.
Add once to any adult policy and all children in the family are covered until age 23.
Choose any cover amount from £10,000 to £100,000 (limited to the parent's cover amount).
HALO additional claims support service for children and their families included.
CONVERSATION TIPS
Talking about children's critical illness cover
The thought of their child getting critically ill is every parent's worst nightmare. That's what makes children's critical illness cover such a tough subject to raise.
We asked advisers to share their strategies based on their personal experience and views for broaching this sensitive but essential subject.
Emma Astely
Cover My Bubble
Matthew Chapman
Plus Financial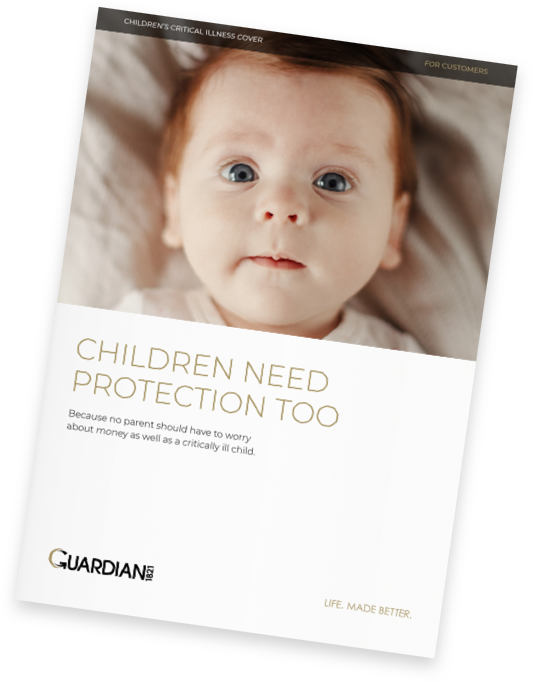 A CUSTOMER GUIDE
Use our customer guide to children's
critical illness to support your
recommendation of Children's Critical
Illness Protection from Guardian.
WE DON'T BELIEVE CHILDREN'S CRITICAL ILLNESS PROTECTION SHOULD ONLY BE AVAILABLE IF THE PARENT BUYS CRITICAL ILLNESS PROTECTION.

THAT'S WHY OURS CAN BE ADDED TO ANY TYPE OF adult COVER.
Hilary Banks
Sales Director