Children's Critical Illness Cover
Every child deserves better
Around 12 families are told every day that their child has cancer.*
However, the importance of children's critical illness cover is often understated.
By making it an optional extra and doing a number of things differently, we're hoping to change that.
*Source: CLIC Sargent, A Strategy for 2020-2025.
#1 COVER CAN BE ADDED TO ANY TYPE OF ADULT POLICY
Typically, children's critical illness cover is automatically included with adult critical illness policies. This means that if a client just wants life cover, or they're not eligible for critical illness cover themselves, they can't have children's critical illness cover.
That's why at Guardian we've made children's critical illness cover an optional extra that can be added to either parent's life or critical illness policy at any time.
#2 MORE CONTROL OVER THE AMOUNT OF COVER
Although most providers include children's critical illness cover with adult critical illness cover, the amount is usually limited to £25,000.
At Guardian we don't believe £25,000 always gives a family the financial breathing space they need to look after an ill child. So, while comparison sites return quotes for us based on the addition of £25,000 of children's cover, you can increase that amount during our online application process. Parents can choose any amount between £10,000 and £100,000, to a maximum of their own amount of cover.
42% of parents stop work because of their child's cancer treatment.*
*Source: CLIC Sargent, Cancer costs report, September 2016.
#3 DEFINITIONS DESIGNED TO PAY OUT FAST
When a child is critically ill, a prompt payout is essential. So, with Guardian, children benefit from the same high-quality definitions as adults, as well as cover for 6 child-specific conditions, which means in most cases confirmation from a UK Consultant is all we need to pay out.
This approach minimises the need for further questions or evidence which can lead to uncertainty and delay.
#4 ADDITIONAL PAYOUTS MADE ON EARLY DIAGNOSIS
For early-stage diagnosis of 22 illnesses we pay out an additional 25% of the amount covered and an additional 10% if low-risk non-melanoma skin cancer is diagnosed. And if any of these illnesses reoccurs and develops to meet our critical illness definition, we'll make a further payout of the full amount of cover.
Also, while the death of a child is hard to contemplate, in the rare event it happens, our cover removes the burden of funeral costs with a £10,000 payout. Some other providers limit the payout to £5,000.
CANCER. THE BIG REASON KIDS NEED COVER
4,500
PEOPLE UNDER 25 ARE DIAGNOSED WITH CANCER EACH YEAR – THAT'S 12 EVERY DAY1
1 in 500
CHILDREN WILL DEVELOP SOME FORM OF CANCER BY THE AGE OF 142
£600
THE AVERAGE ADDITIONAL
MONTHLY EXPENSE INCURRED BY
PARENTS WHILE THEIR CHILD IS
TREATED FOR CANCER3
49%
OF PARENTS EXPERIENCE A LOSS OF EARNINGS3
42%
OF PARENTS STOP WORK BECAUSE OF THEIR CHILD'S CANCER TREATMENT3
19%
OF PARENTS TAKE UNPAID LEAVE FOR OVER A YEAR3
Sources:  1. CLIC Sargent, A Strategy for 2020-2025.   2. Children with Cancer UK, Childhood cancer facts and figures, October 2019.
3. CLIC Sargent, Cancer costs report, September 2016.
#5 ONE SMALL FEE, EVERY CHILD IS COVERED
When a parent or legal guardian adds children's critical illness cover to their policy, they pay just one additional cost and then every child in the family (and any new arrivals) are automatically covered.
What's more, natural, step and adopted children are all included, and every child is covered right through their college years to age 23.
Adding £50k of Children's Critical Illness Protection costs around £10 a month.
#6 CLIENTS ONLY PAY FOR IT WHEN THEY NEED IT
Because most providers include a limited amount of children's critical illness cover as standard, clients can often find themselves paying for it even if they don't have children yet.
At Guardian, clients can simply add the cover to their own policy when they decide to have children, so they only pay for it when they need it.
They can also remove the cover at any time if they wish.
#7 ADDITIONAL SUPPORT WHEN IT'S NEEDED MOST
When someone makes a claim, a payout alone is rarely enough to help families. Our HALO claims service offers additional support tailored to their circumstances.
The family can also take advantage of our Anytime services, which offer a second medical opinion with a UK-based specialist, and access to a virtual GP 24/7.

Key facts about our cover
23
The age every child is covered up to
£10,000
Funeral benefit for every child
60
Common critical Illnesses covered
6
Child-specific conditions
22
additional payout conditions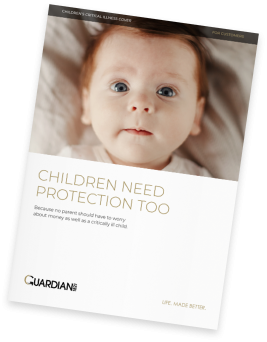 A CUSTOMER GUIDE
Support your recommendation with our customer guide
to Children's Critical Illness Protection from Guardian.